As a gardener, I am always looking for new plants to add to my indoor gardening collection. This time, I was looking for some begonias and while surfing on the internet, I came across this beautiful image of a plant called Weeping Begonia. I haven't seen such a plant in my entire life. It just grabbed my attention. Here is the first image of the so-called weeping begonia I have seen on Pinterest.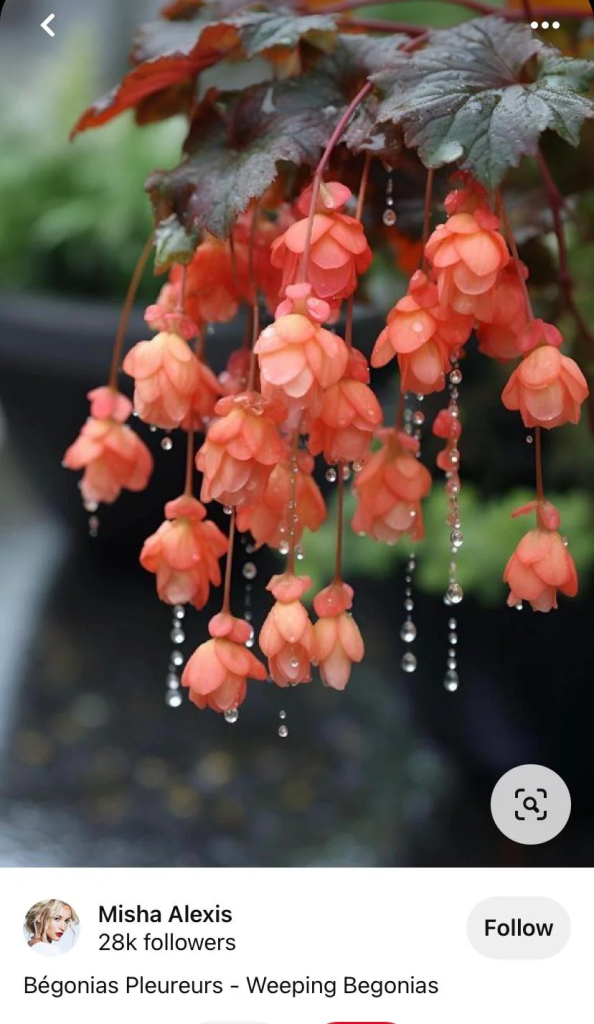 I started to look for this begonia in ecommerce sites like Amazon but I couldn't find any such plant. This created a question in my mind, Do these plants exist? As I haven't seen this plant in real life, I created a kind of survey in Facebook gardening groups to know about the truth. Overall, I got 76 responses from different gardeners. From these responses, I concluded that there is no plant called Weeping Begonia. Instead, there is a plant called Hanging Begonia or Trailing Begonia. However, This Hanging Begonia also didn't look like the one I initially saw on Pinterest. I researched further and came to know that the image on Pinterest was created using AI. Here are some of the responses from Facebook comments on Weeping Begonia:-
Pat Bray Says, "Called Trailing Begonias and I have quite a few in baskets which last all summer long"
I asked Jane Brit, who has years of gardening experience if there is no such plant called weeping Begonia. Instead, it's trailing begonia, right? Her response was "Yes, this is a Trailing Begonia. I have several pots of them and they are now in the garage for the winter."
She (Jane Birt) has also posted an image of that Begonia which I have attached below:-
Cindy Ligget Says, "While there are several varieties of Begonias, the one in pic doesn't exist except by AI"

Why Did The Concept of Weeping Begonia Arise?
This whole new plant called Weeping Begonia arose from that picture posted on Pinterest which turned out to be created through AI. I loved that picture and appreciated the creativity, however, the creator should have mentioned the use of AI. The literal meaning of Weeping is Shedding Tears which makes our plant as Begonia shedding tears. Unfortunately, there is no such plant and it's just fantasy. Here are screenshot of comment in reddit about the weeping begonias.
Plants Similar to Weeping Begonias
After seeing the image of such beautiful begonia, despite not being real, we would love to keep plants having a similar appearance, right? Keeping that hope in mind, I have found some plants that can give somewhat similar vibes to Weeping Begonia. Some responses from comments in my Facebook survey suggested such plants which I have listed below:-
Trailing Begonia
Trailing begonia is a group of begonias that includes many different varieties of begonias that appear phenomenal when grown in hanging baskets. These are best to grow from bulbs during spring and flowers during summer. They can be grown in full sun or partial shade. However, they are sensitive to cold climates and frost and need to be kept indoors. They are also called Cascading Begonias. Some of the trailing begonias are:-
Begonia 'Pendula White'
Begonia 'Cascade Red'
Begonia 'Cascade White'
Begonia Illumination Mix
Dragon wing Begonias
Angel Wing Begonia
Native to South America, this perennial begonia is a perfect alternative for weeping begonia. It prefers partial to full shade which makes it best to grow indoors. It blooms from Spring to Fall. The green leaves resemble the wings of angels which appear just above spectacular red blooms.
Also Read: Succulent Plants Meaning: Must Know for Gardeners!!
Begonia boliviensis 'Bonfire'
This begonia variety has stunning colour and blooms all spring and summer. It's a low-maintenance plant and no deadheading is required. This resembles weeping begonias. You need to keep this indoors during winter. This plant received the Award of Garden Merit in 2009 from the Royal Horticultural Society for its noteworthy qualities. However, this begonia variety is toxic to pets and animals. So, Proper precautions should be taken.
Fuschia 'Dark Eyes'
This plant has mixed red calyx and red corollas with stigmas growing outward which gives it a unique and beautiful appearance. It has also received the Award of Garden Merit. This plant attracts bees and hummingbirds which further enhances the beauty of your garden.
Ornamental oregano
It is a small, fuzzy and cute perennial shrub mainly grown for its foliage beauty. It looks best when grown in hanging baskets. The mix of purple-green leaves with aroma makes it perfect for keeping on the balcony. It prefers full sunlight. It is also toxic to pets.
Final Verdict
To sum up, there is no plant called Weeping Begonia. The images of this plant on the internet are created by using artificial intelligence. There are some other plants which give similar vibes like weeping begonia. These plants include Hanging/Trailing Begonia, Angel Wing Begonia, Begonia boliviensis 'Bonfire' and Fuschia plant. You can add these beautiful indoor plants to your gardening collection.